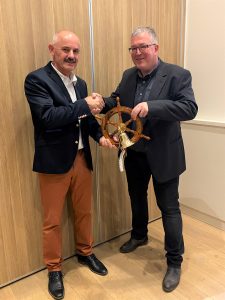 The Dutch subsidiary of IBC SOLAR, IBC SOLAR B.V., starts the new year with a change in management. After a total of 15 years, Peter Meijers hands over the helm to Harold Salden, who joined IBC SOLAR B.V. in 2011.
15 years is a long time and yet it can pass so quickly. It's been that long since Peter Meijers founded the company IBC SOLAR B.V., together with IBC SOLAR. A lot has happened since then. IBC SOLAR B.V. developed in the growing Benelux market and has been able to serve this market faster and more thoroughly over the years. The cooperation with the parent company IBC SOLAR was intensified and expanded in various areas resulting in a large number of successfully completed projects.
The beginnings
Even before his time at IBC SOLAR, Peter Meijers wanted to contribute to making the living environment more sustainable. An idea that today is at the top of almost every political agenda. That's why the former managing director founded MTM (Milieu Techniek Meijers) in 1999 after his long career in the Dutch Armed Forces. The company mainly developed and implemented PV systems and rainwater infiltration systems. Accordingly, points of contact with IBC SOLAR and its founder Udo Möhrstedt were quickly established. It was the start of a good cooperation between the two companies, which finally led to the founding of IBC SOLAR BV in 2004.
Exciting times
Now, 15 years later, Peter Meijers leaves the Dutch subsidiary and hands over the management to Harold Salden. The trained technical business economist studied energy technology and began his career at IBC SOLAR as a sales manager.
The times for the entire PV industry could not be more exciting. In the course of the energy transition, PV will play an important role. Existing and new energy systems will continue to develop in the coming years. And the commercial sector is also taking further steps to make the business more sustainable. The pace of the energy transition is accelerating and brings new opportunities and challenges with it – IBC SOLAR B.V. is ready to go!