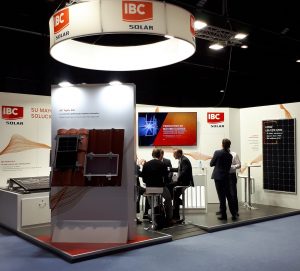 Renewable energies in Spain, especially with regards to the solar market are booming. This became clear during the visit to Genera Solar 2020, Spain's largest energy and environmental fair in Madrid. IBC SOLAR also participated and presented the wide range of its services and product portfolio, from modules and mounting systems to inverters. However, this year's highlight was the launch of the Spanish PV Manager version.
From February 5th to 7th, everything at the exhibition center in Madrid was about energy and environment. Genera 2020 is a unique platform to focus on trends that determine the future and, of course, to exchange knowledge. Innovations and product technology were presented and the network with partners and customers strengthened. All this with the goal of growing together with the Spanish PV market.
Of course, we from IBC SOLAR also participated. In addition to the latest products, our services and technologies, one of our trade fair highlights was the introduction of the Spanish PV manager tool, a comprehensive planning tool for installers and specialist partners. Overall an exciting portfolio for a market that could not be more promising in terms of solar energy at the moment.