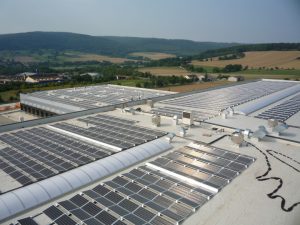 Flat roofs are particularly well suited for the installation of PV systems. There is no question about that. Especially if a lot of PV power is required. But in times of recurring storms and hurricanes, these systems have to withstand a lot. Our in-house and well known mounting system IBC AeroFix has already proven several times in the past that it can withstand the strongest storms. But how exactly does our AeroFix system perform in these extreme situations? We wanted to know more about this and therefore started a video and sensor monitoring for a period of 10 years. But before we go into detail, let's take a look at some background information first.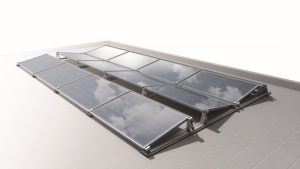 The advantages of our IBC AeroFix mounting system are obvious: it can be mounted without penetrating the roof, without screws or drilling, so that the roof is not damaged. It is also quickly installed, tested in the wind tunnel and extremely stable due to its aerodynamic construction. Therefore, even large wind loads do not pose a problem. The latter has been demonstrated by several events over the years. The list ranges from hurricane Niklas (2015), storm Xavier (2017) and hurricane Friederike (2018) to hurricane Sabine and storm Victoria (both 2020). In the case of hurricane Sabine, wind speeds of up to 177 km/h were reached. And even in the lowlands, wind speeds of around 150 km/h were measured.
But how exactly does the aerodynamic system behave on the roof during such storms? The fact is, there have been no recordings of such systems during a storm so far. Although the IBC AeroFix is extensively tested in the wind tunnel, extreme situations cannot be adequately represented and tested here. We also wanted to know how the system would behave over the years. The fact is that because the system only rests on the roof, it "works" permanently, thermally expanding in the heat of the day or during the summer and contracting again in the cold, at night or in the winter.
Control is better
There is no doubt that the AeroFix mounting system can be relied on. After all, it is regularly tested in the SUNLAB test laboratory. But for the icing on the cake in terms of quality, we want more. Therefore, we use an existing PV system for a 10-year wind load test. Here in the second article, you will find out which system is involved and how exactly the monitoring is carried out.