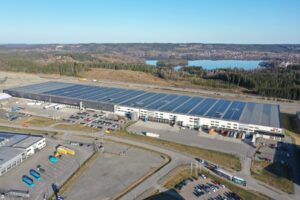 In Sweden, more precisely outside Borås, the country's largest rooftop solar plant has recently been built. And the PV output is impressive, totaling five megawatts. The PV project was installed and planned by our Swedish partner Solkompaniet. Only IBC SOLAR's own brands were used for the modules and mounting system, which means that IBC SOLAR's 15-year combination warranty also applies.
Sweden's largest rooftop PV system is now installed t on NREP Logicenters asset Solskenet 3. The five MW system was named "Solskenet" and consists of almost 15,000 solar modules of IBC SOLAR's own brand IBC Monosol 340. In terms of mounting system, the proven IBC AeroFix was chosen, which was mounted in an east-west direction. The solar power generated is used by the Speed Group in Sweden, which has rented the system. This is an important step for the Speed Group, which has set itself the goal of becoming climate-neutral by 2025. And the five-megawatt plant is already making an important contribution to this.
A bonus: The 15-year combined warranty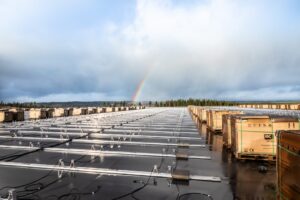 The choice of components in terms of mounting and module gives the system tenant a great advantage. Especially with IBC SOLAR products, this combination is ideal. We prove this with the 15-year combination warranty – together on mounting systems and modules from IBC SOLAR.
To ensure that all components of a PV system deliver what they promise, all products undergo in-depth tests in the SUNLAB test laboratory. And with the IBC inhouse brand, these tests also take place in the combination of mount and module. The 15-year combined warranty ensures that problems that occur in the combination of IBC SOLAR modules and IBC SOLAR mounting systems are solved easily and simply. The highlight: There is only one contact person and guarantor for the processing – stress-free and uncomplicated.
A great advantage to make sure the solar plant delivers what it was designed for also in the future to give NREP Logicenters and Speed Group comfort for a greener environment.