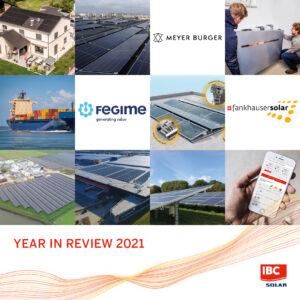 Is it Christmas again? Once again, the year has literally flown by. For us, it's time to look back at our highlights in 2021.
January to March
The first quarter started right away with exciting news from our Dutch subsidiary. The third project for the Rivierenland Water Authority was completed. Solar energy is now being used for water treatment at a total of three water authority sites. The three plants have a total capacity of almost 6 MW.
And it was also at the turn of 2020/2021 that our team in Poland put into operation the municipal power plant on the roofs of four 17-storey buildings of PSM Winogrady. The investment includes 496 photovoltaic panels with a total capacity of 164 kWp, which provide residents of Poznan blocks of flats about 80% of the electricity needed to power the common parts of the buildings.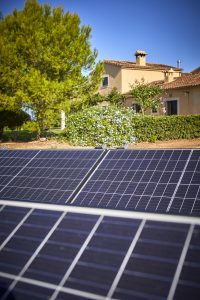 April to June
For many years, the IBC SOLAR PV Manager, the PV planning tool for installers, has been part of IBC SOLAR's repertoire. In spring, the program was finally expanded so that users can benefit from even faster and more flexible operation. And that from anywhere and at any time.
The second quarter was also filled with new collaborations. We were very pleased about the partnerships with Enphase, Meyer Burger and Fegime.
In Poland we announced our innovative solution developed together with CWL Lundberg and our colleagues from Spain collaborated with Opengy in Spain's largest rooftop on-site PPA.
One of the highlights on our blog? The Enphase system in the IBC SOLAR test.
July to September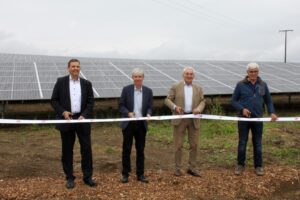 For the first of July, we welcomed a new member of the board, Patrik Danz, as CSO. But the month also brought other changes, as our portfolio is now also available at Fankhauser Solar due to an intensified cooperation.
In the middle of the year, we were also finally able to announce our highlight for 2021: Our new flat roof mounting system IBC AeroFix G3. The further development of our in-house and proven system shines in many respects: from new features to more flexibility, because with the AeroFix G3, modules with larger dimensions can now also be installed without any problems.
In midsummer, our colleagues from Spain participated in the 5th Atlantic Forum for Self-Consumption and Sustainability in Maspalomas, Gran Canaria. Here, various companies in the industry discuss the latest technological and environmental advances in solar and photovoltaic energy.
In late summer, or rather September, after a long break caused by the Corona pandemic, a solar park opening was possible again. In Draisdorf-Eggenbach, district of Lichtenfels/Bavaria, our board together with local politicians and land owners inaugurated the first section of the total 20 MW plant.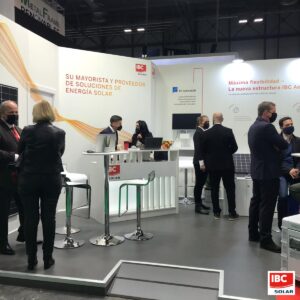 October to December
In 2021, the entire PV industry – as well as other industries – continued to face challenges due to material shortages. Effects were and are particularly felt in the deliverability of individual products. Especially in the global sea freight, the situation came to a head at the beginning of fall – we reported on our blog.
We also focused on a partnership in the fall. For example, solar power plant operator 7C Solarparken acquired four solar parks realized by IBC SOLAR with a total output of over 31 MWp. And for our Spanish colleagues, our participation in Genera in Madrid, the international trade fair for energy and the environment, meant that the last few weeks were dominated by trade fair preparations.
We say "Thank you!" to all blog readers, customers and specialist partners and wish you a relaxing Christmas and a happy New Year!
By the way: IBC SOLAR will be 40 years old next year. On the occasion of our anniversary, we have thought of a few surprises for our customers and Co. Stay tuned.