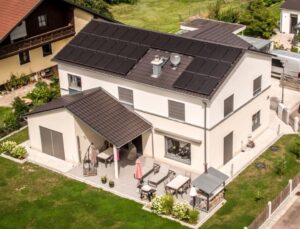 On the occasion of our 40th anniversary, we took the opportunity to conduct a market and industry survey among our Premium Partners in Germany. Because in the course of our 40-year company history, the feedback and experience of our partners was and is always very important to us. In the first blog post, we presented the first half of the survey results and reported on what homeowners and commercial customers value most today when purchasing PV systems and storage systems. The second part addresses the questions of what installers value most and where they see PV going in the future.
What factors play a role for installers in Germany when choosing a supplier? That's exactly what we wanted to know from our specialist partners, along with many other questions. At 90.8 percent, reliability and accessibility to customers ranked first among the mentions. The second most important factor, at 60.5 percent, is a modern, up-to-date and comprehensive portfolio that covers complete systems. In third place are services such as good after-sales service and good warranty conditions.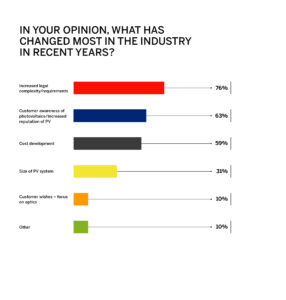 Market trends and prospects
In addition to the decisive factors for buying a PV system or choosing a supplier, we also asked the solar installers about the trends and changes that have significantly influenced the industry in recent years. Here, 3 out of 4 specialist partners cited increased legal complexity and increasing requirements (76.1 percent). At the same time, two-thirds of PV experts observe an increasing awareness of customers for photovoltaics in the context of renewable energies as well as an overall growing reputation of PV. Just under 59 percent believe that rising costs (e.g., prime costs and installation costs) are one of the most important factors influencing the market.
In the end, we were interested in which additional areas of application for photovoltaics will play a role in the future according to our PV experts. In the view of the partners surveyed, these clearly lie in the area of electromobility (87.4 percent). These are followed at a great distance by application areas such as sector coupling using hydrogen (23.5 percent) or building-integrated photovoltaics (19.8 percent). The list of conceivable areas of application is long, so no clear third place can be identified. Here, blockchain and peer-to-peer applications as well as topics such as sector coupling in industry and commerce were frequently mentioned.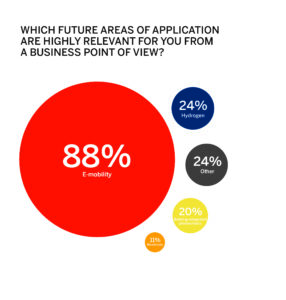 "The survey results clearly reflect the market developments that have been taking place in recent years. In the early days, PV was rather costly which meant that it was simply not affordable for many homeowners. Moreover, its potential was still underestimated. In the meantime, solar technology is becoming the future mainstream technology in the energy sector and is enjoying increasing popularity, especially in the homeowner segment. With solar energy, everyone has the opportunity to be a direct influencer of the energy transition – which is unique. At the same time, the PV industry is extremely dynamic and is moving at a rapid pace and so we can be very excited about the next few years," summarizes Udo Möhrstedt, industry pioneer and CEO of IBC SOLAR AG.