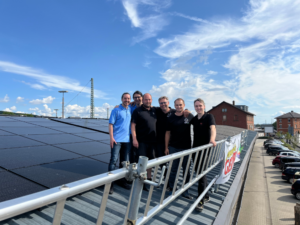 We have already reported on our cooperation with the inverter manufacturer Solplanet. Now there is exciting news again: In Lichtenfels, very close to our company headquarters, we have installed a first test plant in an old freight depot together with our premium partner Qmax.
What makes the test facility particularly interesting are its unique surroundings and the listed status of the building. This is because it is the old freight depot in Lichtenfels, which is used commercially.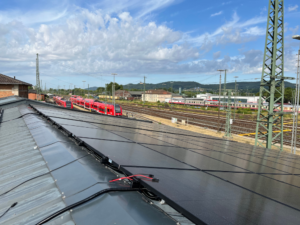 The premises are rented by a hairdresser and barbershop, a doctor's practice and a restaurant, among others. By complying with special conditions, it was possible to adapt the strict monument protection in favour of a 243 kWp solar system. The requirements include anodised mounts and black modules to create a uniform roof colour look.
The technical advantages
In addition to our IBC Mono Sol 400 CS10-HC Black modules, Solplanet ASW 80 & 100 kW inverters as well as Solplanet Hybrid T3 – 12kW and Solplanet HV Battery – 12kW were used. During the first intensive training sessions at our Competence Centre, IBC SOLAR and our specialist partner Qmax were able to see the Solplanet system in detail. The first positive impression was then further consolidated at the installation site itself. The simple commissioning via app was particularly convincing.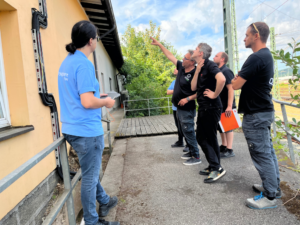 Short paths and positive cooperation
What is special about our cooperation with Solplanet is the opportunity to actively help shape the processes. This includes the services, future products and their features. For example, arc detection (AFCI) was integrated into the Solplanet ASW 80 – 110 kW at short notice thanks to our input.
Tenant electricity model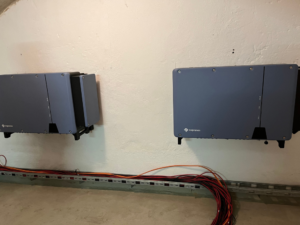 Since the building is a commercial property and the electricity produced by the PV system is distributed to several parties, a tenant electricity model will be used here in the future. A separate article on this will follow soon.
Conclusion
We are pleased that the Solplanet test system in this special property will soon go into operation, and we are already looking forward to the results. Of course, we will report on this again here on the blog. Many thanks to Qmax and Solplanet for the good cooperation!