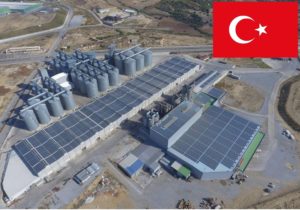 Our colleagues in Turkey are well acquainted with large-scale PV plants. Thanks to a national franchisee network, IBC SOLAR Turkey is able to work on several projects simultaneously. With the completion of a rooftop project in Mersin, our regional company is now launching a new solar chapter in Turkey.
The large-scale PV plant in Mersin is expected to sum up to 15.6 MW when completed. A first part with 4.2 MW has now been put into operation. The modules have been installed on several roof surfaces of a large industrial building. It is considered to be one of the largest rooftop systems in Turkey and is setting quality standards for this type of PV installation. To guarantee highest standards during the whole process, the project was run under the sensitive controllership of the Fraunhofer ISE Institute from start to hand-over.
One challenge in the planning and installation of the solar system was the roof structure. No drilling or screwing could be applied to attach the mounting structure for the modules to the roof. Therefore, the engineers opted for an installation without penetrating the roof skin.
In addition, a significant number of modules was constructed in an East-West orientation, which means that only a minimum ballast is required in the peripheral areas. This demonstrates an advantage in terms of the diminishing static reserves of industrial buildings. Furthermore, the system's orientation allows optimal use of the available roof surface (in comparison with South orientation).
The concept also convinced the investor Tiryaki Agro Company,who preferred IBC SOLAR Turkey in their tender. Currently, construction work on further project phases is being executed.
Find impressions in our photo gallery: