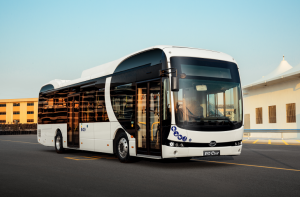 In the course of climate change and developments in traffic, e-mobility is nowadays widely discussed. The fact is: e-cars emit less CO2 than conventional vehicles and can also serve as energy storage to compensate for fluctuations in renewable energies. This way e-cars can make a big contribution to the energy transition. It is no wonder that the number of electric vehicles is increasing. And this not only applies to the private sector. Also in the public sector buses with electric drive are being increasingly used. The latest example is provided by our partner BYD, which will supply the Ruhr area with a total of 22 fully electric e-buses in summer 2020.
Countries such as Norway and China have long been pioneers in the field of e-mobility and demonstrate how this is done. Today in Norway alone, almost every second new car is an e-car. Although the numbers in Germany are still growing, there are positive developments and interest is increasing.
The key to climate-friendly trade
Electric vehicles are significantly more energy efficient than vehicles with combustion engines and already have a climate advantage in today's electricity mix. In the context of global climate change and urban air pollution problems, there is also a growing interest in the public transport sector. For the benefit of the environment, electric buses are increasingly being used as a means of reducing emissions in cities.
BYD and electric buses
The latest example is provided by our partner BYD. Europe's leading manufacturer of e-buses recently secured its first order in Germany. For example, in the summer of 2020, around 22 fully electric and 12 meter long electric buses will be used in the Ruhr area. The buses can carry up to 80 passengers and have a range of more than 200 kilometers when fully loaded, even while using the air conditioning. The key roads will focus on the areas Bochum, Gelsenkirchen and Herne. As a result, Germany and the Ruhr region are making a contribution to reducing CO2 emissions and joining the list of countries supplied by BYD with e-busses. So far, the company has equipped countries such as the United States, the United Kingdom, the Netherlands, Norway and Spain with more than 50,000 fully electric buses.
Storage solutions from BYD
A look into our portfolio shows that BYD is involved in so much more than public transport buses. Here you will find a variety of storage solutions. Just take a look at our Online Shop.
Sources:
Nationale-Plattform-Elektromobilität