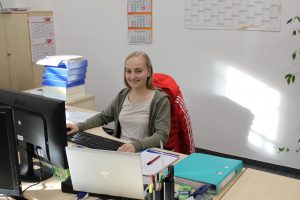 Like many other young people, I decided to opt for an apprenticeship after finishing school. After a successful application process, I started my apprenticeship as an industrial clerk in September 2019 at IBC SOLAR. A few months have passed since then and I have settled in well in my first training department "Projects Germany". This department is responsible for the development and implementation of large-scale photovoltaic and solar projects. But first, my name is Jennifer Will and I will describe to you in the following article what such a day during my training is like.
It's Friday, I'm at the company at around 7 a.m. and one of the first. Every working day begins with starting my computer, checking emails and working through my to-do list for the day. After all of this is done, our team meeting is just about to begin. This meeting takes place every second Friday. What I really enjoy and appreciate is the fact that from the very beginning, I was not treated like the "usual trainee". On the contrary, I was immediately involved and can also contribute myself. This way I felt like I was immediately part of the team.
After the team meeting, my trainee has a few tasks for me. I find it particularly good that I already get important and responsible jobs to do on which I can work independently after a short briefing. If I still have questions, my colleagues are of course always on hand to help and advise. After this, a colleague from the technical department takes the time to explain the network connection point and the associated duties in our projects. The grid connection point is the point at which the electricity produced by the PV system is fed into the public power grid. This is an exciting thing, because the implementation of a project also depends on this aspect. It would make little sense to generate electricity, but not be able to feed it into the grid. No feed-in, no remuneration – it's as simple as that!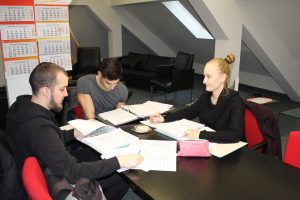 Then it is already noon and time for the lunch break. On Friday almost all the trainees are in the office. We usually meet in the large common room and use the thirty minutes to eat, chat and laugh. After this, I continue finishing the tasks in my department: write a cover letter, scan and file contracts, send documents, create physical folders – all the tasks for which I am responsible for. Later that day my colleague explains the department's project list to me. This is where all the department's projects and important information is recorded. This way, one always knows which project developer is responsible for which project and which documents are already available for each project.
At 2 p.m. it's time to meet the other trainees from my apprenticeship year. Here at IBC SOLAR, we have the opportunity to meet in groups for one hour a week in order to study together for the vocational school. The study group is a great opportunity to exchange ideas and knowledge about the topics from the last lesson and to explain incomprehensible subjects to one another. An opportunity which Nils, David and myself are happy to take part in. Today's program included for example BWG (business management processes) and KSK (commercial management and control). At around 3 pm it is already time to go home on a Friday and another exciting day at IBC SOLAR comes to an end.
Author: Jennifer Will (Industrial sales representative trainee, 1st year)